Pokemon Lunch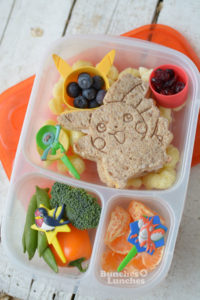 With three boys, I don't know if Pokemon fever will ever die down (or at least not in the near future). So I've slowly been acquiring as much Pokemon Bento items as possible to keep things interesting. Today I have yet another Pokemon Lunch.
In this lunch:
Whole Wheat Bread
Tillamook Cheese
Ham
Organic Broccoli
Organic Snap Peas
Baby Bell Peppers
Clementines
Blueberries
Dried Cranberries
Pirate Booty
This lunch was packed in EasyLunchboxes. The picks were found at a cake shop in Alabama. The cookie cutter came in a set from eBay and the silicone cups I found on a Japanese site.
Want a few more ideas for some Pokemon lunches? Be sure to check out my other posts here and here.