Surf's Up! Bento Lunch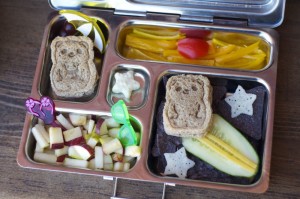 In anticipation of our beach trip, I decided to make a "Surf's Up!" Bento lunch.
Included in this lunch are:
Apples and Pears for the "sand" where a person is "buried" (all you can see is their sunglasses and flip-flops)
TJ's Organic Peanut Butter sandwiches served on Harvest Bread Company's Honey Whole Wheat Bread
Cucumber surf board with cheese stripes
TJ's Organic Blue Corn Chips for water
Jicama starfish
Bell Pepper sunrise
Grapes under the umbrella where momma and baby are watching daddy surf.
I used CuteZCute Animal Palz to make the sandwiches and a standard mini star for the starfish. Picks came from some cupcakes at a party I attended.
Served in the Planetbox Rover.
Linking up at:

2 responses to "Surf's Up! Bento Lunch"