You're a Star Bento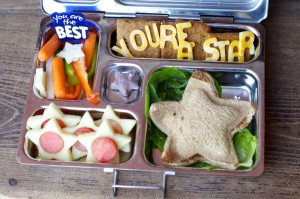 Awhile back I picked up these adorable Williams Sonoma Hand pie makers from Ebay. I had seen an article from Wendy at Wendolonia that explained how to use them on your sandwiches. How cute right?! So I opted to make this "You're a Star" bento, using her technique.
I'm pretty sure my son liked it since only a few of the veggies made their way home.
In this lunch:
Whole Wheat Ham and Cheese Sandwich
Apple Stars that were cored and Watermelon circles were inserted.
TJ's Yogurt Star
Organic Baby Carrots
Bell Peppers
Star Jicama
Homemade Graham Crackers
Colby Jack Cheese
Lunch was served in the Planetbox Rover. Food pick was from Bento USA. Apple stars were cut from a fondant cookie cutter set. Star sandwich was made from a pocket pie mold from Williams Sonoma.