Top Hat Drumstick Bento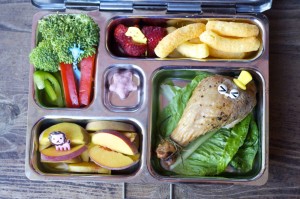 My husband had to go out of town last week for work and grilled a bunch of meat for me before leaving. My son generally enjoys eating drumsticks in his lunch, so I threw one in and put some cute food picks in to jazz it up a bit.
Unfortunately, it didn't seem to do the trick since most of the meat came back on the bone. Ugh. Can't win them all.
In this lunch:
Top hat drumstick from a rotisserie chicken
Peaches
Bell Peppers
Organic Broccoli
TJ's Yogurt Star
Strawberries
TJ's Cheese Puffs
Lunch was served int he Planetbox Rover. Food picks were from Bento USA.