Panda Bento and LunchBox Review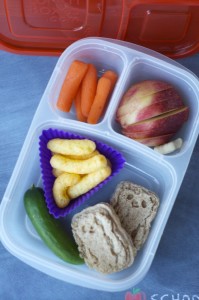 A few weeks ago I won (YES I WON!) a set of Easy LunchBoxes from the Bento Bloggers and Friends back to school giveaway. I was so stoked. I've been wanting to try these for awhile, but have just been dragging my feet in buying them. (But then I won them. I may or may not have done a little happy dance when I got the e-mail.)
I've been using the Planetbox for going on five years now, so it was definitely fun to play with something new! I tell you what. It did not disappoint!
First of all, I love the size of the compartments. They are really roomy and can fit A LOT of food. I didn't fill them completely and there was so much space left if I needed to fit more food.
Another thing I really loved- and this may not be a big deal for some, but it was for me- is that I can use some of my larger/deeper silicone cups in this box. The one pictured actually fits in quite a few of the boxes I use regularly, but I made a lunch the day after I made this one, using Ikea silicone cups and it fits perfectly. I'm excited to start using some of the cups I had semi-retired since they fit now!
The plastic is really rigid and sturdy. I also love that they were easy to open and my son loved trying the new box! He liked it so much, he requested it for lunch the next day.
As far as getting the product, Cristi from Bent on Better Lunches contacted me to let me know I won and then forwarded my info to Kelly from Easy LunchBoxes. Kelly is amazing guys. She was on it right away and had a really easy step by step process on how to make my color choices and had them mailed to me the same day. I received them like two days later. Seriously. Dance party by the mail box anyone?
If you are looking for a great, affordable, sturdy lunchbox (or want to pack all of your lunches in one night) this is for you. You receive four in a pack and there are two different lid choices (brights or classics).
In this lunch:
Whole Wheat Ham and Cheese Pandas
TJ's Cheese Puffs
Cocktail Cucumbers
Organic Carrots
Peaches
TJ's Yogurt Star
Lunch was packed in the Easy LunchBox. Silicone cup is Wilton. Panda's were cut out using CuteZCute Animal Palz.
*I didn't get paid to write this. I won the boxes. I didn't get asked to write this. I wanted to. Just want to share with my peeps out there who would like to know about some rad lunch products.
One response to "Panda Bento and LunchBox Review"