My Top 14 Lunches of 2014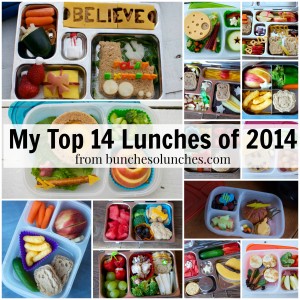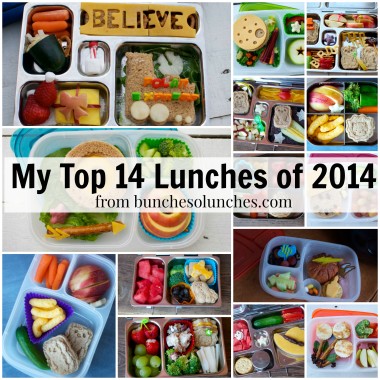 Wow! I can't believe that 2014 is in it's last day. Time has just flown by. I started this blog back in July to chronicle snacks, lunches and recipes that I made for my family, and it has been so fun to share ideas and simple (and some not so simple) lunches.
As I reflect back on the year, I realize that we have been so blessed- from a family vacation made possible by some sweet friends, new friends (hi BBFer's!), great schools for our kids, and the list goes on.
I honestly wasn't sure if I'd be able to find 14 lunches I really loved (since I started in the middle of the year), but was pleased to see that I had enough to fill the slots! Yay!!!
So without further ado, here are my favorite lunches from 2014 (that I blogged…there were a few that didn't make it on the blog that were cute but I decided not to count those.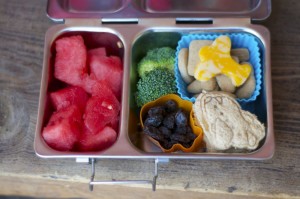 14. I picked this airplane church snack bento because I think those airplanes are just so stinking cute!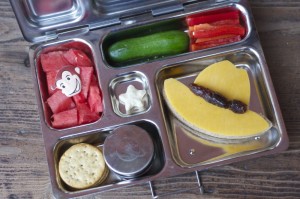 13. Who doesn't love George? Pretty much everyone in our house does (my kids love to watch it, we love to let them 😉 Though my husband and I are pretty convinced that whoever writes that show is high when they do it. How else would a monkey end up flying a plane?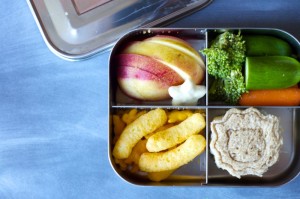 12. Honestly, I just really loved the composition of this photo and the background. Yup. Sometimes I'm just shallow.
11.  This lunch was a fun little reminder of things to come (I know, I know, winter is just setting in, but a girl can dream right?)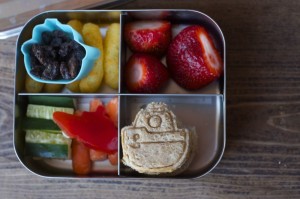 10. I totally missed talk like a Pirate Day. I happened to have this lunch in my media folder and decided it was close enough. I just love those mini sandwiches. They make me happy (and my little guy happy too!)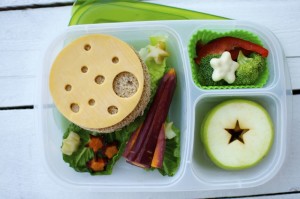 9. To infinity and beyond! I made this lunch as part of my shoestring series. It is one of the first ideas I had and I'm so happy with how it turned out. Even better, it is easy to make!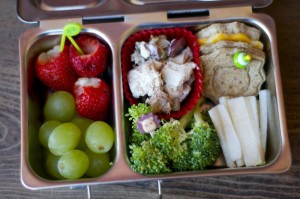 8. I loved how this church snack came out! I started buying more picks over the last year and I was super stoked to start using them. My favorite thing about using picks? Instant cuteness. I don't even have to do anything!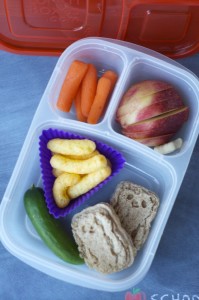 7. This was one of the first lunches I made in the Easy Lunch Boxes. I won a set earlier this year (YAY!!!) and I loved how simple but colorful and fun this lunch was.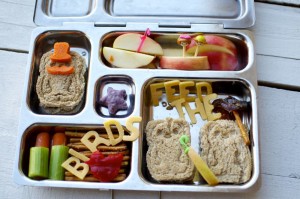 6. This Mary Poppins Inspired Lunch was so fun to make. I received some new Cute Z Cute cutters as a gift from a friend and that mustache kept bringing to mind Mr. Banks. So I went with it.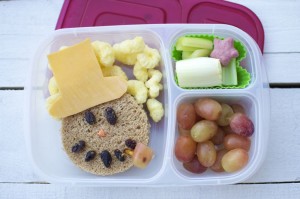 5. Frosty the Snowman! The shoestring series has been so fun (and isn't done yet!) but man, I was so surprised by how many Christmas lunches I was able to do with it! I chose this one to represent those lunches because I just really love that corncob pipe.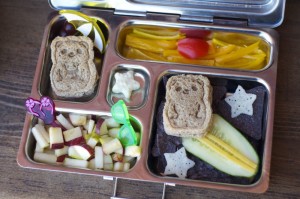 4. This lunch makes me so happy. We took our kids to the beach for the first time ever this year and it SO fun! We were able to see so many old friends and just enjoy being a family…on the beach. Because everything is better on the beach. For realz.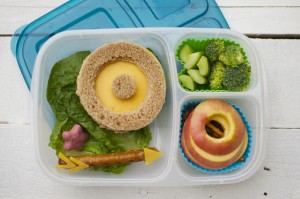 3. I just stinking love this lunch so much. I can't stop thinking of Brave. I may have to do a remake of it with some Merida in there somewhere. Anyway, it was another shoestring lunch. In fact, it was the first one I made. I was beyond happy with how it came out.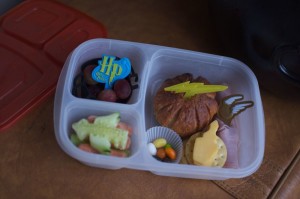 2. Oh Harry. Harry, Harry, Harry. (Not to be confused with Hairy- because that would be gross in lunches…) We had an awesome Harry Potter party this year and I made this lunch to commemorate that (also as a nod to my son with whom I was reading the book to).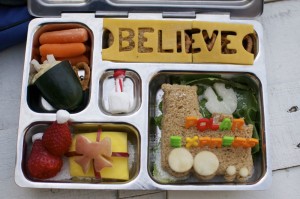 1. Finally, my favorite lunch from the year was the Polar Express lunch I made. I don't normally put much thought into my lunches beyond "cute lion…add a pick", but this lunch I actually took time to draw out. Wha?! It's gettin' all crazy up in here! I know, I know, but it was my first blog hop and I wanted to do something special, so I took a little time, sketched it out, went shopping and brought it to life. I am SO happy with how it came out. I especially loved that "hot chocolate cup".
Anyway, HAPPY NEW YEAR! I hope it's great and I can't wait to see what the new year brings.
What was your favorite memory from the year? Did you make lunches to commemorate anything?