Reindeer Cheeseball Recipe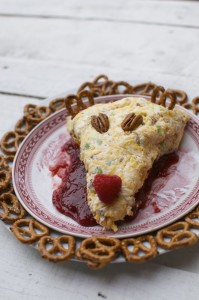 When I first got married, we lived in a tiny little town for a bit. The church we attended had an event that they called the "Tasting Bee" where everyone would submit recipes and a book would be created for people to take home with said recipes. But what good are recipes if you don't have a dish to try? So the tasting bee would happen on a Sunday night at the beginning of December and people would bring their dishes (typically in mini form) so everyone could sample the recipes. It. Was. EPIC. Like, seriously. It was SO good.
This is one of the recipes I sampled and loved it so much I decided to adopt it into our favorite recipes.
Now typically, it's made into a ball form (using a bowl), but since I was joining a Reindeer Roundup, I decided the reindeer head needed to happen.
What you need:
4 oz cream cheese
1 cup mayonnaise
3-4 springs of green onions (chopped)
2 cups cheddar cheese (shredded)
1 cup pecans (chopped)
1/4-1/2 cups raspberry preserves
Throw your cream cheese in a mixer with the mayo. Beat it on medium until it's not super lumpy anymore. add the onions and mix in. Add the cheese and mix in. Add the pecans and mix in. Spoon the mixture into a plastic wrapped bowl (I used a square one for the reindeer). Place in the fridge and let it set for an hour. Heat up the raspberry preserves in the microwave (be sure and use a microwave safe bowl!) and spread on the bottom of the plate (an alternative is pouring it over the ball after inverting it). Invert the ball onto the plate. Since I used a square bowl, I cut it into a triangle. Add a raspberry for the nose, pecans for the eyes and pretzels for the antlers.
Serve with crackers, pretzels or anything else you would like.
I love this dish for a quick and easy make ahead appetizer. It's fun and festive, creamy and crunchy, and packed with flavor. The sweetness of the raspberries cuts against the flavor of the onions allowing for a delicious melody of flavors to be devoured quickly. Be careful. This stuff is like crack for a food lover.
What's your favorite go to appetizer?
2 responses to "Reindeer Cheeseball Recipe"