Shoestring Bento: The Moon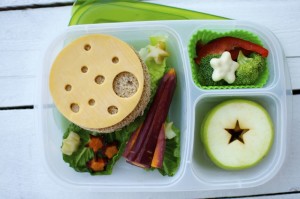 This summer I made a moon bento to see how it would work with the shoestring bento idea. It came out really cute! Since I never posted that lunch (and it was packed in a different box) I felt like I needed to make it again because it was so cute!
While I was cutting out the stars my husband proposed making a rocket to launch to the moon. So we went with it. After the fact I realized I should have used yellow carrots for the stars. But I wanted more variety of color. Oh well.
The lineup:
In this lunch:
Applegate Farm Ham
Tillamook Cheese
Great Harvest Honey Whole Wheat Bread
Organic Carrots
Green Apple
Trader Joe's Yogurt Star
Organic Broccoli
Red Bell Pepper
This lunch was served in Easy Lunch Boxes. The cookie cutters used were Wilton soft grip round cutter, Wilton linzer cookie cutter, and Wilton square silicone cups. I used the toothpick to push the apple core out of the apple slices and the knife to cut the veggies and apples.
In case you don't want to go to the store and prefer shopping from home, here are a list of links to the items I used in this lunch. These are affiliate links. If you choose to buy from my links, I get a small percentage.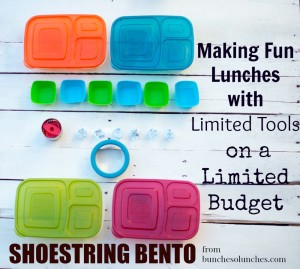 2 responses to "Shoestring Bento: The Moon"