Shoestring Bento: Flower Kabobs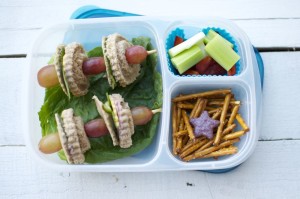 For today's Shoestring Bento, I made flower kabobs. Originally I planned on using coffee stirrers for the kabobs, but after taking a Facebook survey, I discovered that's not a thing people normally keep in their house. Go figure. So I pulled out my trusty bamboo skewers, cut one in half and slide the mini sandwiches onto the stick.
In this lunch:
Great Harvest Honey Whole Wheat Bread
Applegate Farms Ham
Organic Romaine
Tillamook Cheese
Purple Grapes
Pretzel Sticks
Trader Joe's Yogurt Star
Organic Baby Carrots
Organic Celery
This lunch was served in Easy Lunch Boxes. The flower cookie cutter used was the Wilton linzer cutter. I used a knife to cut the vegetables.
*In case you don't want to go to the store and prefer shopping from home, here are a list of links to the items I'm using for shoestring bento. These are affiliate links. If you choose to buy from my links, I get a small percentage.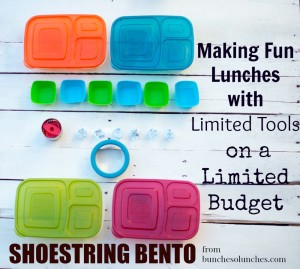 7 responses to "Shoestring Bento: Flower Kabobs"