Ship Bento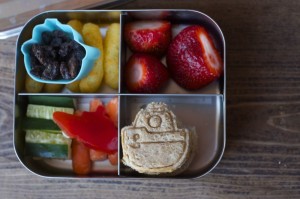 Apparently, today is talk like a pirate day. I had already made a lunch for the day, so I pulled this one out of the archives (hey, it's got ships!). I made this for Destructo for preschool a few weeks ago.
In this lunch:
TJ's Cheese Puffs
Raisins
Cucumbers
Bell Pepper Ship
Organic Baby Carrots
Strawberries
Whole Wheat Ham and Cheese Sandwiches (Great Harvest Bread and Applegate Farms Ham)
This lunch was packed in a Lunchbots Quad. The silicone cup and bell pepper cutter both came from Daiso Japan. The sandwich cutters is from Bento USA.
One response to "Ship Bento"