Pokemon Bento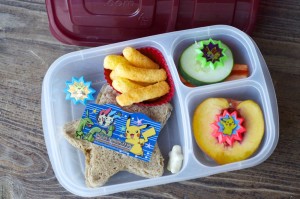 My oldest son is currently obsessed. Obsessed I tell you. It's Pokemon this, Pokemon that. Naturally I wanted to make him a special lunch that appealed to his likes. So I made this Pokemon Bento.
In this lunch:
Whole Wheat Peanut Butter and Jelly Sandwich
TJ's Yogurt Star
TJ's Cheese Puffs
Peach
Cucumbers
Carrot Sticks
Lunch was served in an Easy Lunchbox. Pokemon rings are from Ebay. Baran sheet I found at a store in LA. Silicone cup is from KitchenAid.