Shoestring Bento: Archery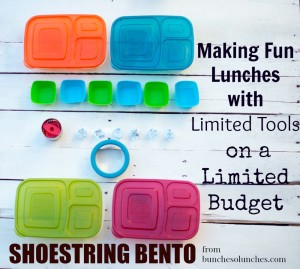 Right about now you may be asking yourself, "What is shoestring bento?" Well, it's simple really. I wanted to create a series of posts that show you how, using only three tools found at your local craft store, you can create multiple fun and cute bento lunches on a budget.
My husband once told me that he heard it said that the greatest path to creativity is through limitations.  In keeping with that thought, I decided to challenge myself with creating bento lunches using inexpensive bento tools and boxes.
Over the next few weeks I'll be showcasing different lunches in Easy Lunch Boxes using only three specialty tools I bought from Michael's Stores in addition to general kitchen tools (things that most- if not all- of us would have).
The Line Up: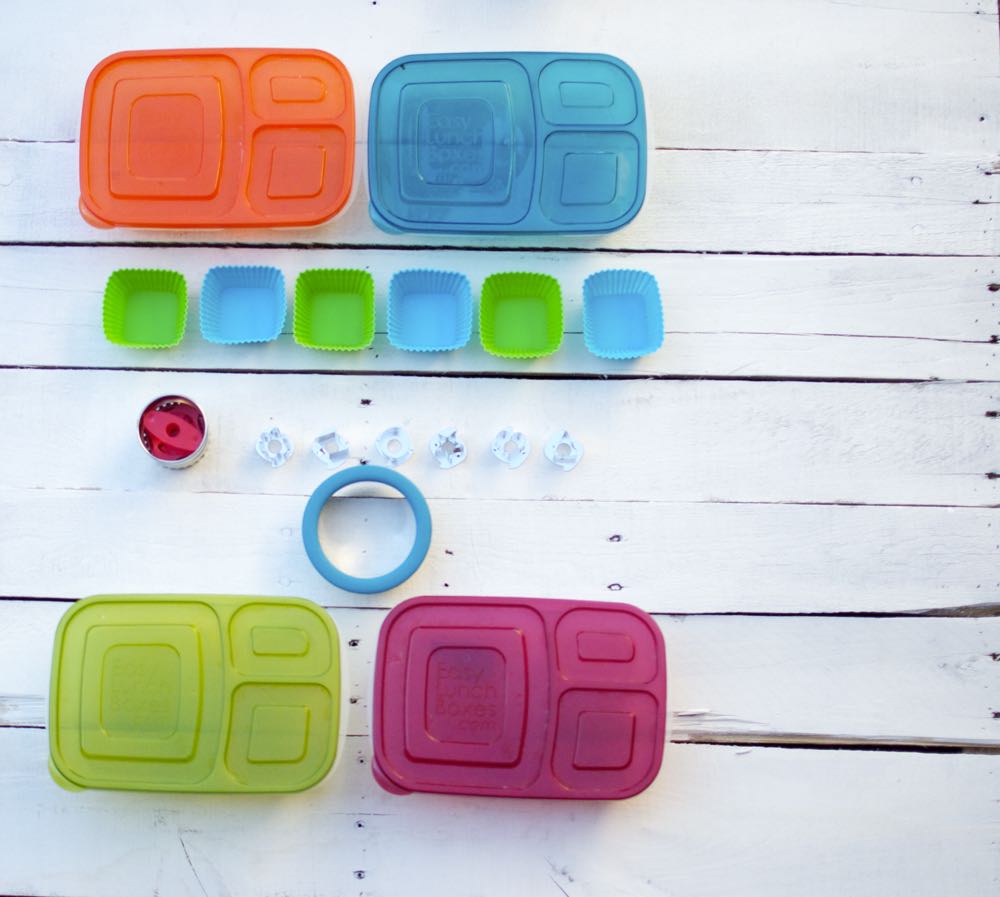 First we need a box. Easy Lunch Boxes are a great economical option. For $13.95 you get 4 lunch boxes. You can pack for up to four people at one time, pack lunches for 4 school days, or pack over four days without have to do dishes (*not recommended if you go through dishes like we do at my house…the clean up is brutal!) I love that they have three large, roomy compartments that let me pack MORE then enough for my growing six year old. Seriously. These are great boxes.
Secondly, we need tools.
I wanted the most bang for my buck in this case. Since we do a lot of sandwiches at our house, Wilton's standard circle cutter was a strategic choice. $3.49 at Michael's, and as you will see over the next few weeks, really versatile.
My next choice was just as strategic. When limiting yourself to three tools (purchases), it makes sense to get the most out of it as possible. I chose Wilton's round linzer cookie cutter. It includes six mini basic shapes, as well as a scalloped edge cutter. I am also using the blunt end of the cutter to make medium sized circles. This set was $7.99 at Michael's, but you better believe I used my 40% off coupon.
My final choice was Wilton silicone squares from Michael's. These were the most expensive item at $9.99 for a set of 12. The other downside is they only come with two colors. But I love silicone cups for dividing items and adding color, so they were a must have for this series.
So what does that look like cost wise? Well, if you don't use your 40% off coupon the total comes out to $21.47 before tax. But using your coupons, it comes out to about $12.89. $12.89 divided by 20 (for the 20 lunches I'm going to make) comes out to $.64 per lunch for the tools.
I hope this series will inspire you to know that anyone can make fun lunches for their kiddos (or themselves!) with a minimal investment using items you can find at your local craft store. An added bonus? If you don't have a lot of storage space, this is a perfect option for you! I would love it if you decided to join me in the challenge. Tag your lunches #shoestringbento on Instagram.
Up first this week, archery.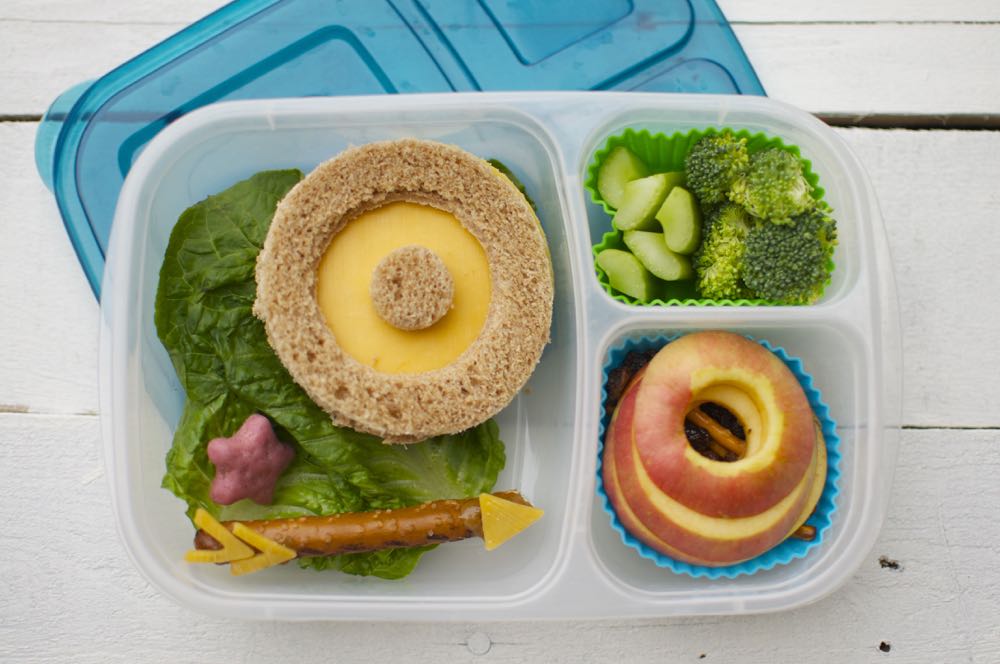 Tools you need to make this lunch: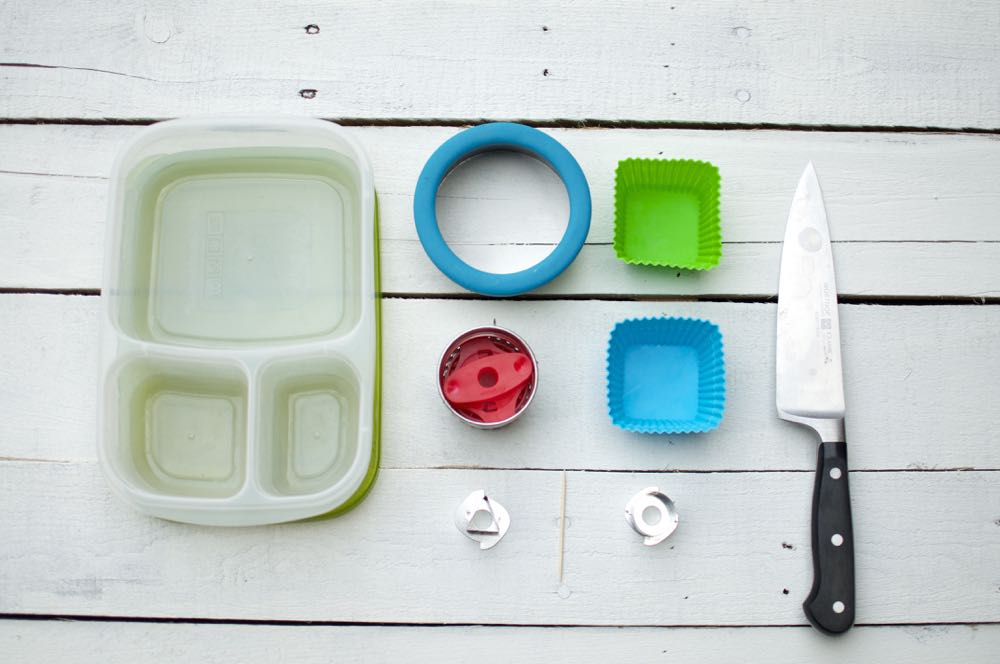 In this lunch:
Great Harvest Honey Whole Wheat Bread
Tillamook Cheese
Applegate Farms Turkey
Organic Romaine Lettuce
Trader Joe's Yogurt Star
Organic Broccoli Florets
Organic Celery
Organic Fiji Apple
Organic Sun-maid Raisins
Pretzel Sticks
Large Pretzel Rod (for the arrow)
This lunch was served in Easy Lunch Boxes. The cookie cutters used were Wilton soft grip round cutter, Wilton linzer cookie cutter, and Wilton square silicone cups. I used the toothpick to push the apple core out of the apple slices and the knife to cut the veggies and apples.
In case you don't want to go to the store and prefer shopping from home, here are a list of links to the items I used in this lunch. These are affiliate links. If you choose to buy from my links, I get a small percentage.
6 responses to "Shoestring Bento: Archery"