Jailhouse Rock Bento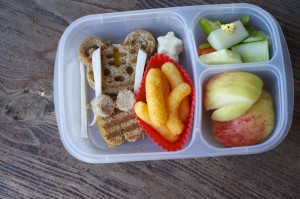 We love panini's at our house. But really, how could you not love warm, melted cheese, meats, fruit, and veggies or any combo thereof?
I decided to make my son a grilled cheese for lunch. Since I make it on a panini maker, it leaves stripes on the sandwich. I thought it would be a perfect opportunity to jazz up a tiger sandwich. After I made it though, it reminded me more of jailhouse stripes then tiger stripes. So I added some jicama bars and thus, the jailhouse was born!
In this lunch:
Great Harvest Honey Whole Wheat Bread
Tillamook Cheese
Trader Joe's Cheese Puffs
Jicama
Trader Joe's Yogurt Stars
Red Apple
Cucumber
Carrots
Celery
This lunch was served in Easy Lunch Boxes. The sandwich cutter is from Cute Z Cute. The silicone cup is Wilton and the pick is from Daiso.