Witchy Hamster Bento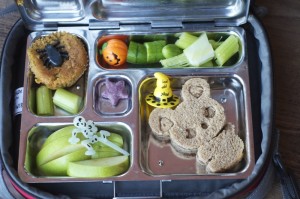 My oldest son asked if he could make his own lunch. So of course I said yes! He chose everything he put into the lunch.
In this lunch:
Whole Wheat Bread
Applegate Farms Ham
Tillamook Cheese
Green Apples
Celery
Homemade Pumpkin Muffin
Cocktail Cucumber
Trader Joe's Yogurt Star
The lunch was served in a Planetbox Rover. The decorations were found on eBay and Bento USA. The Hamster is cut out using Cute Z Cute Cuddle Palz.
3 responses to "Witchy Hamster Bento"