Green Chile Chicken Sandwiches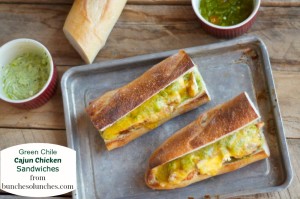 Oh, green chile chicken sandwiches, you don't know what you do to me!
I don't know when my dad started making this. When I was in high school? College maybe? I just know I probably didn't eat it because I wasn't into "spicy" until my big girl taste buds came in. But there was a magical day when my dad made this and I ate it.
The world changed that day.
For the better.
This sandwich is loaded with flavor and has just the right amount of softness to crunch ratio, as well as heat to flavor ratio.
Make it. Like now. And if you need green chile's, it's fall (almost anyway). Which means it's roasting time here in NM. And you are really nice to me, I might send you some.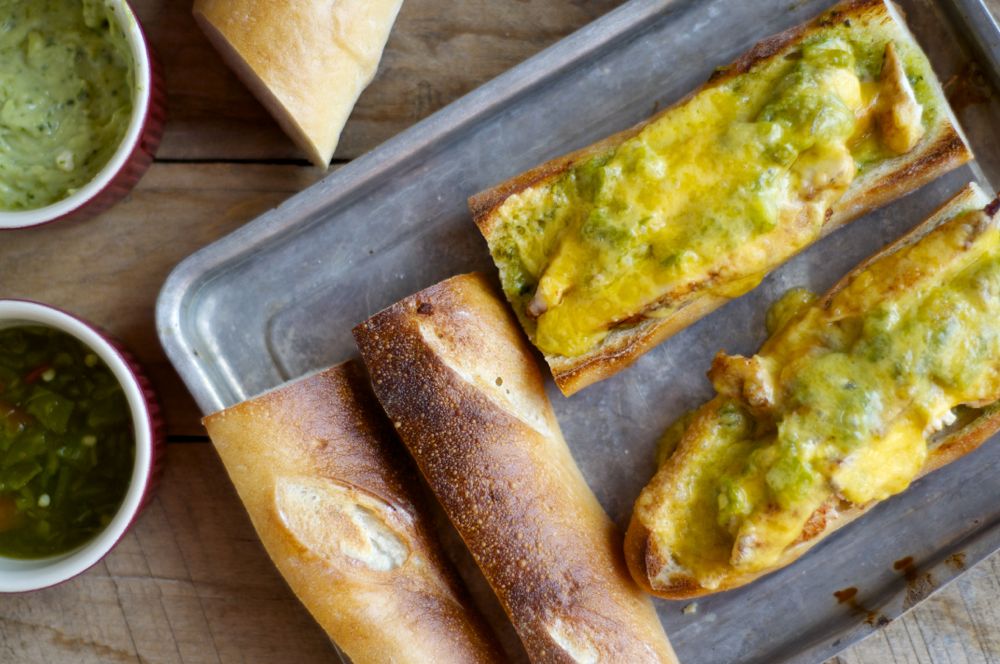 Green Chile Cajun Chicken Sandwiches (makes 4 sandwiches)
2 Boneless Chicken Breast
4 Hoagie Rolls
4 oz Chopped Green Chile (I prefer hot)
4 oz Sweet Basil Pesto (you can buy it or make it. It also freezes great!)
1 Tbsp Mayonnaise
2-4 ozCheddar Cheese shredded
Cayenne Pepper (to taste- more for more heat, less for less heat)
Salt and Black Pepper (to taste)
Butter
Slice breasts lengthwise in half. Warm butter then baste chicken with butter, both sides. Season chicken with black & cayenne pepper and salt.
Mix mayonnaise with pesto.
Grill chicken until done. Place a piece of chicken in each hoagie bun. Add green chile, pesto mix, and top with shredded cheddar cheese.   Place on a cookie sheet and broil until cheese is melted and buns are starting to turn black. Enjoy!
PS- You can also serve them on a crostini as an appetizer if you want. They are delicious that way too! Toast your thinly sliced bread, spread the pesto sauce on, place sliced chicken on the toast and cover that with cheese. Broil until the cheese is melted. You're welcome.