Doctor Who In the Forest of the Night Bento Lunch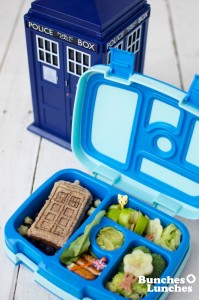 Awww yeah! The time has FINALLY come to bust out my Doctor Who cutters and make a Doctor Who Bento Lunch. I recently joined a lovely blogger group and one of the participants was Caitlyn from Suzy Homeschooler. Last year she did an incredible series on the ABCs of raising a well rounded geeking and this year, decided to open it up and invited people from our group to join in the fun. So here is my contribution to The ABCs of Raising a Well Rounded Geeking.
Now, my boys are still too young to watch some Dr. Who episodes, but that doesn't mean they can't experience the awesomeness of the Doctor in other ways. I made this lunch based on the, "In the Forest of the Night" episode.
In the episode the Doctor and Clara discover the world has been covered with trees and greenery, in not only London, but the entire world. There is a tiger that escapes the London zoo and a quick trip in the TARDIS.
Naturally the majority of the food I used was green to signify the earth being covered with trees. I used the pretzel rods to signify the world cutting the trees down (they didn't realize there was a giant ball of gas headed their way). I also used the tiger and Union Jack flag to represent other aspects of the episode.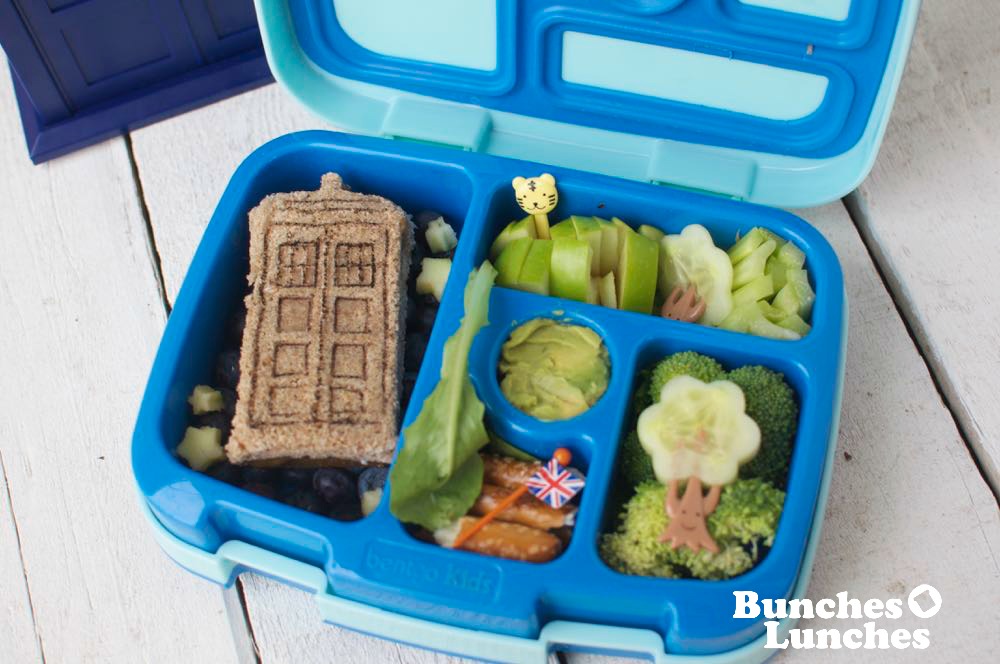 In this lunch:
Great Harvest 9 Grain Whole Wheat Bread
Trader Joe's Sun Butter
Trader Joe's Fruit Spread
Blueberries
Green Apples
Pretzel Rods
Wholly Guacamole
Organic Celery
Organic Broccoli
Cucumbers
This lunch was packed in a BentGo Kids lunch box. I used a Wilton flower cutter for the tree tops and mini star cutters to make the night stars out of apples. The Dr. Who TARDIS was a cutter a friend brought me back from England, but Think Geek has a very similar one. My husband outlined the TARDIS with a food safe marker while made the rest of the lunch. The food picks are from Bento USA.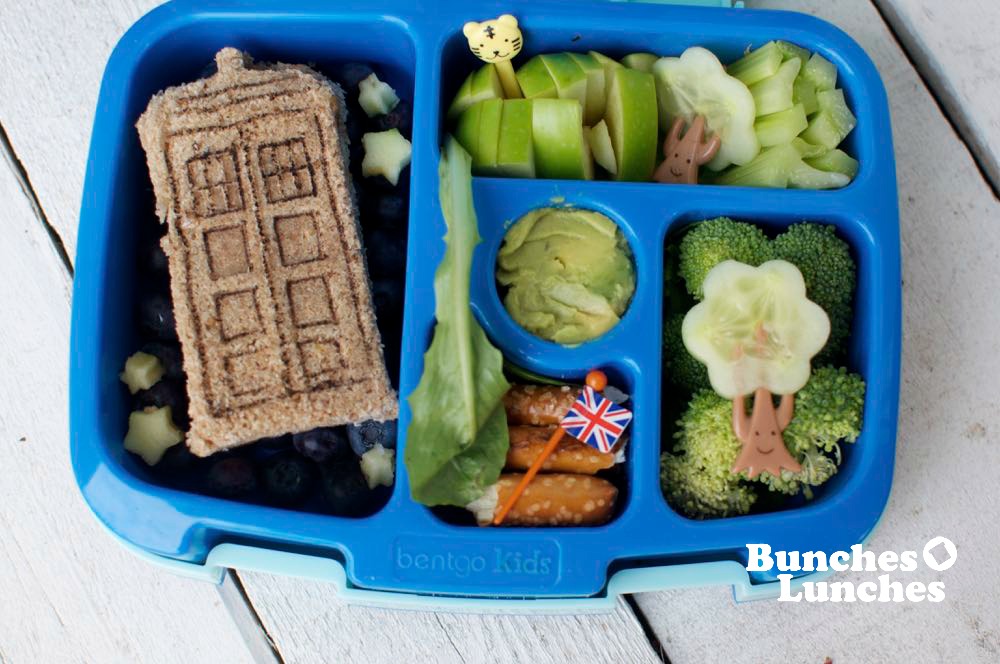 *In case you don't want to go to the store and prefer shopping from home, here are a list of links to the items I'm using for this bento. These are affiliate links. If you choose to buy from my links, I get a small percentage.
3 responses to "Doctor Who In the Forest of the Night Bento Lunch"