Hot Air Balloon Bento Lunch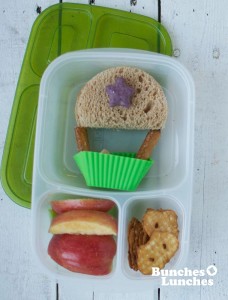 I love hot air balloons! For a few years my husband and I had the joy and privilege of serving on a balloon crew. The balloon we crewed from was called CAVU and was owed by an awesome couple. After we started having babies we backed off of crewing but hopefully someday we will be able to get back into it!
This hot air balloon bento lunch was inspired by Nina of Mamabellys Lunches with Love's Petal and Poppy and the Penguin literary lunch. Hers was brilliant and I thought I could make my own interpretation for the shoestring bento series.
In this lunch:
Whole Wheat Bread
Almond Butter
Trader Joe's Fruit Spread
Pretzel Rods
Trader Joe's Pretzels
Red Apples
Trader Joe's Yogurt Star
Organic Celery
This lunch was served in Easy Lunch Boxes. The large circle cutter is by Wilton and I used the Wilton silicone cups for the basket.
*In case you don't want to go to the store and prefer shopping from home, here are a list of links to the items I'm using for shoestring bento. These are affiliate links. If you choose to buy from my links, I get a small percentage.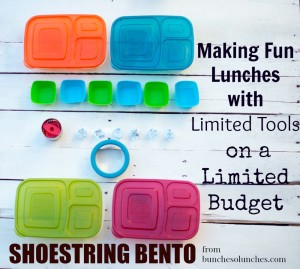 2 responses to "Hot Air Balloon Bento Lunch"