Dr. Seuss Bento Lunch
Happy Dr. Seuss Day! I really struggled with what lunch to make today because there have been SO many amazing Dr. Seuss lunches done. Ultimately I decided to make a, "Horton Hears a Who" bento lunch.
I love the book (and the movie!), "Horton Hears a Who". I think it has such a powerful message and is fun to read and watch with my kids.
If you've been following me for any amount of time, you probably know I am not the most naturally artistic bento blogger around. In fact, I rely heavily on cookie cutters and food picks to make my lunches cute, because honestly, I'm just not that talented (goes to show that anyone can make cute lunches if they want to though!).
So when I realized I needed to do a little more for this lunch, I started to have a little bit of a panic attack. I think it came out okay. Anyway, I was inspired by Jean at Bento Days to actually bust out my edible markers and draw on the bread.
In this lunch:
Great Harvest 9 Grain Whole Wheat Bread
Applegate Farms Ham
Tillamook Cheese
Pretzel Rods
Cucumber
Cotton Candy
Green Apples
Red Apples
Candy Eyes
Edible Food Markers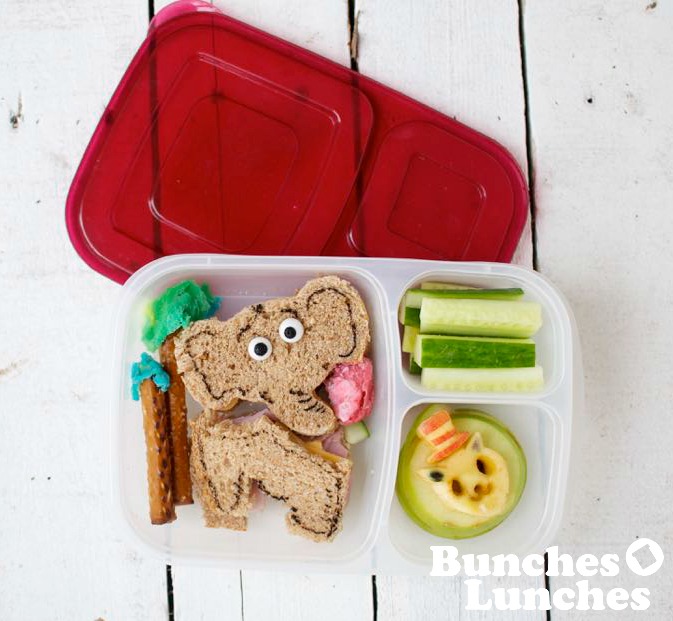 I used Cute Z Cute cutters to make the Cat and the Hat's face and hat out of apple. I used an elephant cutter from Wilton to make the head and freehanded the body.
*In case you don't want to go to the store and prefer shopping from home, here are a list of links to the items I'm using for this bento. These are affiliate links. If you choose to buy from my links, I get a small percentage.
6 responses to "Dr. Seuss Bento Lunch"