Shoestring Bento: Lion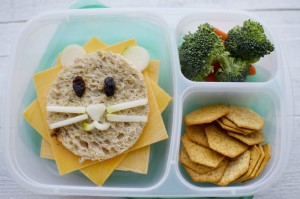 Happy New Year!
I took a little time off from the blog for Christmas break, but I'm so excited to be back!
I have a few more lunches left in the shoestring series that I'm stoked to share with you all!
Today's lunch was for A, my eldest. I did a little play off of one of the lunches in Wendy's book, "Everyday Bento" (she made a sun) to create this lion lunch. A LOVES animals, so this was totally up his alley. He actually saw me writing this post and asked if he could have this lunch. Then I reminded him he already had had it! LOL. He cracks me up.
In this lunch:
Whole Wheat Bread
Applegate Farms Ham
Tillamook Cheese Slices
Organic SunMaid Raisins
Green Apple for the face and ears
Wheat Thin Crackers
Organic Broccoli
Organic Carrots
This lunch was served in Easy Lunch Boxes. The circle and linzer cutters were made by Wilton. I used a knife to cut the whiskers, the heart for the nose, and the circle for the ears.
*In case you don't want to go to the store and prefer shopping from home, here are a list of links to the items I'm using for shoestring bento. These are affiliate links. If you choose to buy from my links, I get a small percentage.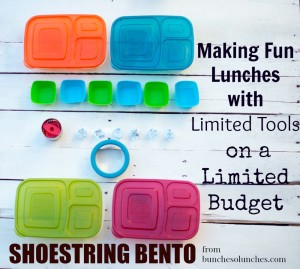 10 responses to "Shoestring Bento: Lion"