Shoestring Bento: Owl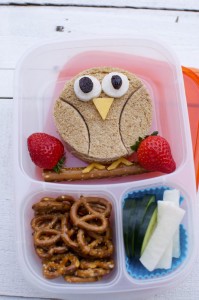 Recently a bloggy friend of mine, Grace from Eats Amazing (she inspired this shoestring bento with her owl lunch), posted about how the circle cutter is an under appreciated cutter. A woman after my own heart.
I have to say, I completely agree with her. When I started thinking about this series, I knew I wanted to use the circle cutter because it's so stinking versatile. Who would have thought it could make an owl,  a moon and an archery target? (Well, besides me and Grace 😉
In this lunch:
Great Harvest Honey Whole Wheat Bread
Jicama
SunMaid Raisins
Tillamook Cheese
Applegate Farms Ham
Strawberries
Pretzel Rod
Pretzels
Cucumbers
This lunch was served in Easy Lunch Boxes. The circle and linzer cutters were made by Wilton. I used a knife to cut the cucumbers and jicama, the circle for the eyes and the triangle for the beak. I made the wing indents using the large circle cutter.
*In case you don't want to go to the store and prefer shopping from home, here are a list of links to the items I'm using for shoestring bento. These are affiliate links. If you choose to buy from my links, I get a small percentage.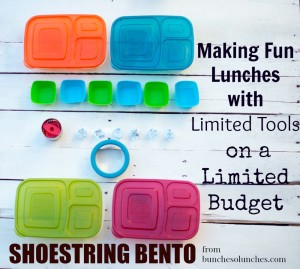 One response to "Shoestring Bento: Owl"