Mary Poppins Inspired Bento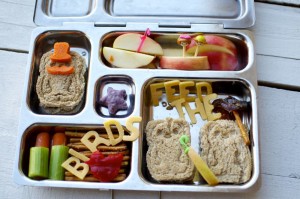 I'm taking a break this week from Shoestring Bento since my oldest isn't in school all week (he's the lucky recipient of those lunches).
Instead, I decided to try out some new cutters I received as a gift and make a Mary Poppins inspired bento.
Now, I just want to say, I LOVE, LOVE, LOVE CuteZCute products. Like, seriously, LOVE. They are such a smart concept and design. Interchangeable faces (or in this case, animal bodies) is just so spot on. (This is my opinion- with the exception of the newest cutters that were given to me as a gift, I have bought the other cutters with my own money- no ones paying me for a favorable review, I just love them).
Anyway, ever since I saw the newest cutters, they have reminded me of Mr. Banks from Mary Poppins (though after I made it I realized that he wears a bowler hat- but another bento blogger reminded me the bankers wear top hats so it still works).
In this lunch:
Great Harvest Honey Whole Wheat Bread
Tillamook Cheese
Trader Joe's Sunflower Seed Butter
Trader Joe's Organic Fruit Spread
Pretzel Sticks
Organic Baby Carrots
Organic Celery
Organic Bell Pepper
Fiji Apple
Date
Trader Joe's Yogurt Star
This lunch was packed in the Planetbox Rover. The cute pandas were cut using cutcZcute Animal Palz. The mustache and top hat were made using cuteZcute vegetable cutters. The music pick was from Daiso Japan. The umbrella pick and kid faces I found at a Japanese store in LA, but you can also find them at Bento USA. The duck is from a Wilton Easter set, and the alphabet letters are from Williams Sonoma.
* Here are a list of links to the items I used in this lunch. These are affiliate links. If you choose to buy from my links, I get a small percentage.

One response to "Mary Poppins Inspired Bento"