Pokemon Bento Lunch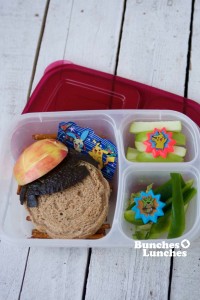 It's been a long few weeks. A lot of good things happening, but also a lot of things to get done and I haven't been feeling 100% so it's been rough getting on my computer. So sorry I haven't added any new lunches!
This is the second lunch (you can find the first here) I made for The ABCs of Raising a Well Rounded Geeking with Caitlyn from Suzy Homeschooler. Last year she did an incredible series on the ABCs of raising a well rounded geeking and this year, decided to open it up and invited geeky bloggers to join.
This lunch is a week late being posted, but better late then never right? I've stated before that my eldest son loves Pokemon and requests a Pokemon bento lunch fairly regularly. I don't make them that often because I don't have mad skills to make the Pokemon out of food. So for this lunch I tried my interpretation of Ash- the Pokemon handler- and used cupcake rings for the Pokemon.
In this lunch:
Great Harvest Honey Whole Wheat Bread
Applegate Farms Ham
Tillamook Cheese
Red Apple
Green Apples
Pretzel Sticks
Bell Peppers
Avocado
This lunch was packed in Easy Lunchboxes. I used Fred Heads for the sandwich and I found the Pokemon rings on eBay and the baran was from Japanese store in LA.
*In case you don't want to go to the store and prefer shopping from home, here are a list of links to the items I'm using for this bento. These are affiliate links. If you choose to buy from my links, I get a small percentage.
One response to "Pokemon Bento Lunch"