Emoji Love Bento Lunch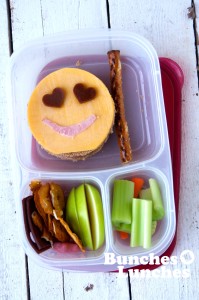 Last fall I started a series called Shoestring Bento. I never really wrapped it up because, well, life happened. So I thought I would share some of the last lunches I made in the series (and perhaps add some new ones this year).
I got the inspiration from this lunch after seeing Alison from The Alison Show make some Emoji cookies. Since the shapes were all relatively simple, I decided that using the tools from Shoestring Bento would make them easy to recreate. I call this one, Emoji love bento lunch.
In this lunch:
Great Harvest Bread Honey Whole Wheat Bread
Applegate Farms Ham
Tillamook Cheddar Cheese
Fruit Leather
Pretzel Rod
Pretzel Thins
Green Apples
Celery
Carrots
This lunch was served in Easy Lunch Boxes. The linzer cutter is made by Wilton and I used the small heart cutter to cut out the eyes. I used the large Wilton Grip Circle to cut the sandwich and cheese. I also used it to make the smile.
*In case you don't want to go to the store and prefer shopping from home, here are a list of links to the items I'm using for shoestring bento. These are affiliate links. If you choose to buy from my links, I get a small percentage.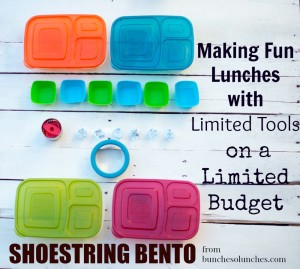 2 responses to "Emoji Love Bento Lunch"