Bunches O Lunches Interviews: Becoming A Bentoholic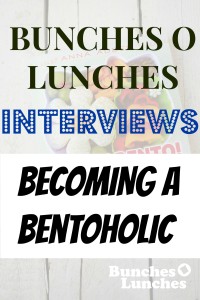 Hey you guys!
I'm SO SO SO excited for todays post! Anna from Becoming A Bentoholic graciously agreed to do an interview with me, so my husband and I drove out a week or two ago to see her and get all the deets about her new book, how she packs lunches, her favorite tools of the trade. I tried to ask all the things I wanted to know (and hopefully you do too!).
It was so good to meet Anna after being blogging friends for the last year. She is so sweet and we definitely bonded over our bento addictions.
If you weren't around yesterday, you definitely need to go check out my previous post where I do a quick review of Anna's new book, "Happy Bento: Lunches on the Go" AND there is a giveaway going on over there! So be sure to pop over and enter. It's good for US and Canada residents. The giveaway is open until next Sunday night.
If you had one question you could ask Anna, what would it be?
If you want to pick up a copy of Anna's new book, Happy Bento, here's where you can pick up a copy.
*There is an are affiliate link in this post. If you choose to buy from my link, I get a small percentage.
2 responses to "Bunches O Lunches Interviews: Becoming A Bentoholic"