Balsamic Pasta Salad
My mom's side of the family are great cooks. Really. They like good food and make good food. Recently I visited with my cousin in California and she made this balsamic pasta salad. It was delicious. I asked her if I could share the recipe because- well- it was bangin'. She gave me permission and I'm giving her credit. Thanks Madeline!
Balsamic Pasta Salad by Madeline Alcorta
1 bag Trader Joe's Organic Brown Rice and Quinoa Pasta Shells
1 medium zucchini, diced
1/4-1/2 cup sun dried tomatoes, chopped
1/2 medium purple onion, diced
1/2 cup piñon nuts
1/2 cup- 1 cup yellow tomatoes, halved
1/4 cup fresh basil, chopped
1/4 cup parmesan cheese
Olive Oil for coating and sautéing
Salt and pepper, to taste
A good balsamic vinegar, to taste
Boil your noodles.
Drain and coat with EVOO.
Saute your zucchini in small batches (so it gets a little crunchy), set aside.
Depending how you like your onions, you can do one of two things. You can chop them up and leave them raw (gives a little more bitterness and crunch to your salad) or you can sauté them in olive oil for a few minutes (don't over caramelize). Both ways are delicious. I sautéed them for this batch since my boys don't handle bitter exceptionally well these days (baby steps people!). My cousin left them raw and it was rad.
Pour the other ingredients into the bowl with the pasta and mix it all together.
Test for seasoning and add more of what's needed.
That's it! Super easy and super delicious! Perfect for summer picnics, low key dinners, meatless Mondays, etc., etc. You get the idea.
Let me know if you make it! I would love to hear how it turned out!
Disclaimer: I didn't measure the ingredients before I put them in. So these are all guesstimates. Add or subtract as you like.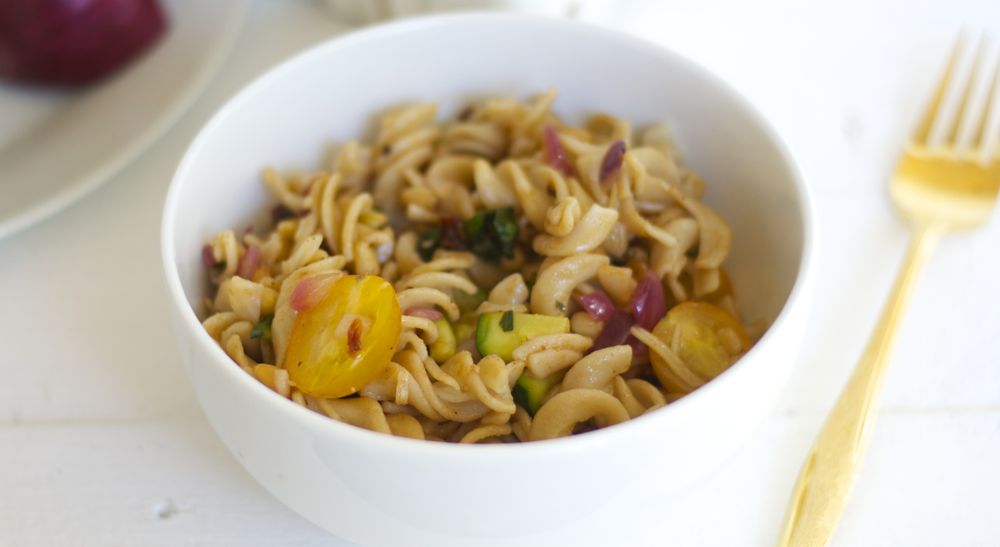 One response to "Balsamic Pasta Salad"