Easy Lunchbox Bags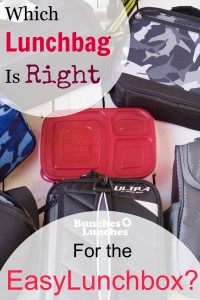 I'm going to let you in on a little secret. I'm obsessed with lunch bags. Like obsessed. Mainly because I really just want to know which boxes will fit in which bags and which bag might be the best of all. I know it's silly and completely off the wall, but these are the things that keep me up at night people!
So here's a little video we made going though about 10 bags to see which lunch bag is right for the EasyLunchbox.
*In case you don't want to go to the store and prefer shopping from home, here are a list of links to the items I'm using for this bento. These are affiliate links. If you choose to buy from my links, I get a small percentage.
One response to "Easy Lunchbox Bags"