Finding Disney Bento Accessories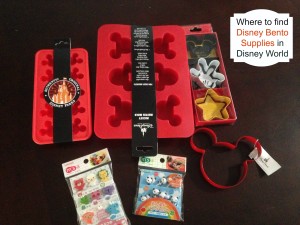 I love Disney. I also love Bentos. So when I found out we were going to Walt Disney World and Epcot for our 10 year anniversary, I KNEW I was going to see if I could hunt down the ADORABLE Disney picks I had seen posted by Anna at Becoming A Bentoholic and Caren at Bento-ology. Alas, it was not meant to be (they are only sold at Tokyo Disney Resort- more on that later), but I did find some adorable things that could be used in bentos!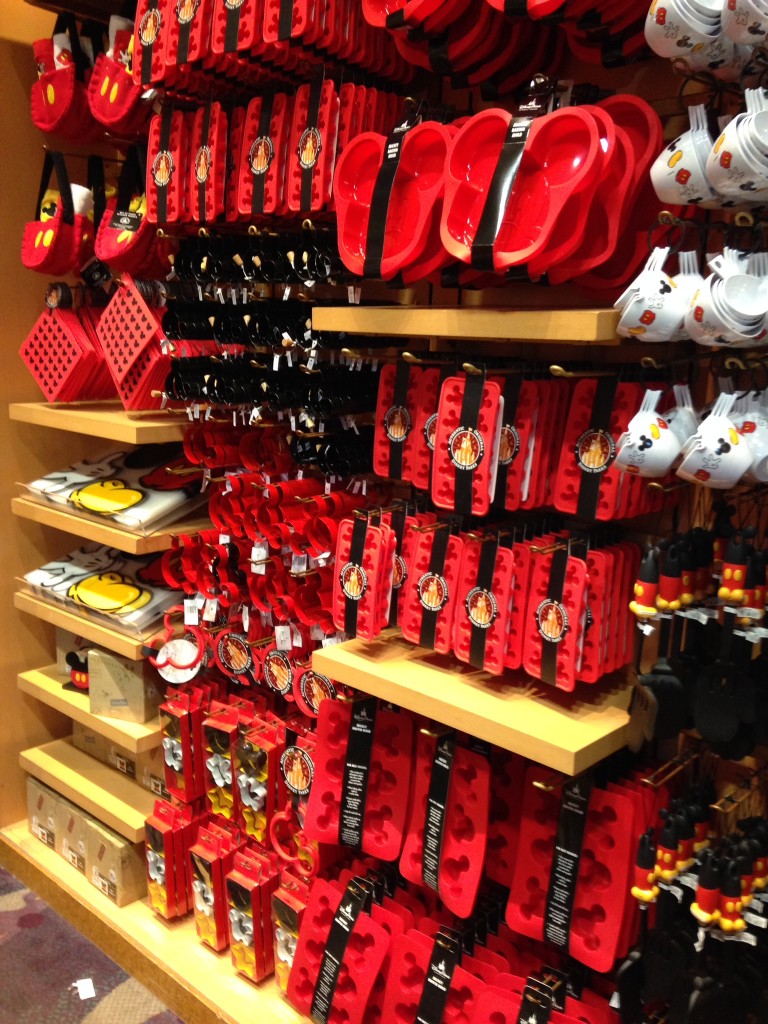 Here's what I learned. I went into almost every store at the Magic Kingdom and found a rather small supply of gear. There was a store in Tomorrowland that had a selection and the HUGE store at the front of the park had a selection, but they were the same selections. So I bought my stuff (kicking myself for skipping the egg frying mold though) and hoped to find a better selection at Epcot.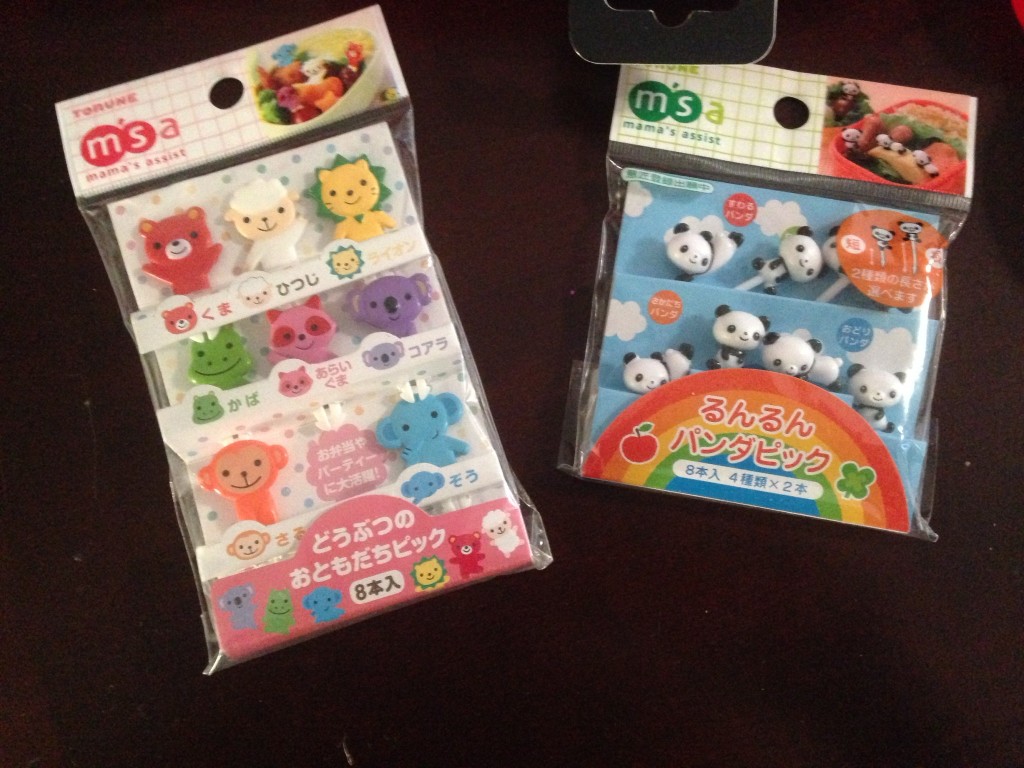 The front of Epcot ended up having the same items that the Magic Kingdom did, but I did find these cute picks at the World Showcase in Japan. They had some bento boxes, but they were all Disney priced (as were these picks!) so I passed on those and resigned myself to the fact that I wouldn't be getting the super cute Disney picks on this trip.
We also went to Downtown Disney and it was the same thing.
The moral of this story is, don't spend a lot of time shopping for Disney Bento stuff. Stop by the stores at the end of your night and enjoy the rest of your time! Do yourself a favor though and get an "apple pie apple" caramel apple.
Now, I did find the ever elusive Mickey food picks. It took awhile and I paid handsomely for them, but OMG. SO worth it. They are so adorably cute! My three year old shouts "Mitty mommy, Mitty!" So yeah, there's that.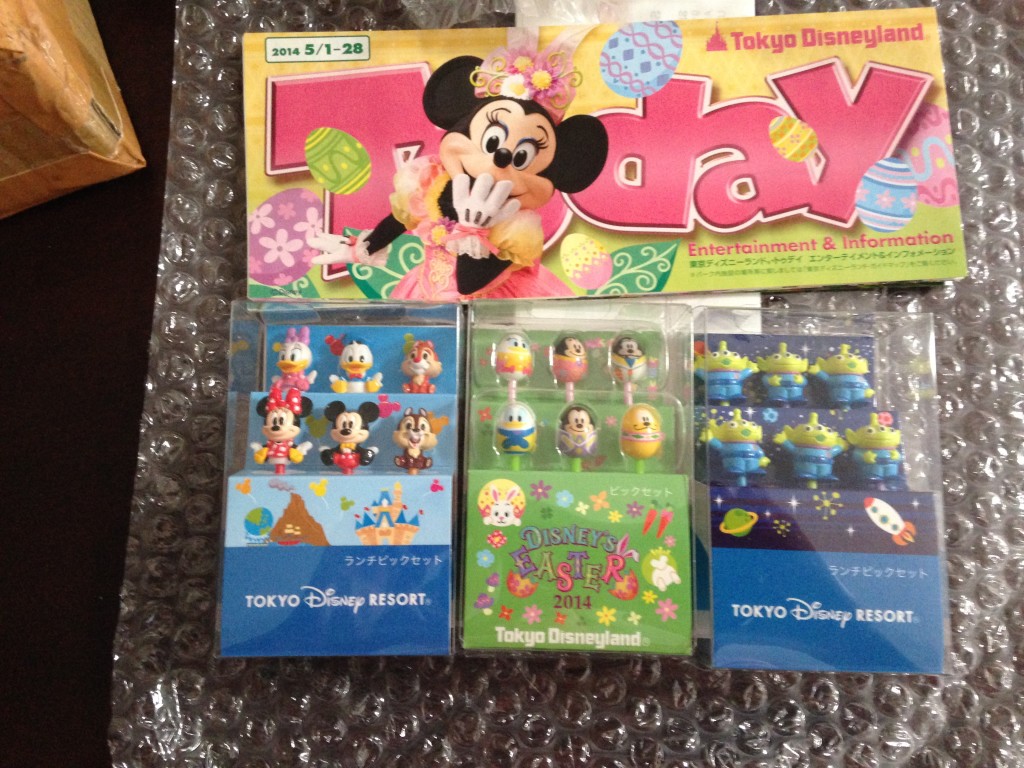 Want to know how I found them? I stalked ebay. Yeah. I know. It's bad. See those egg ones in the middle? I e-mailed the seller and asked if they had the other two sets. I sent them pictures from Anna and Caren's lunches and waited to hear back from them. They did reply and since I wanted to pay shipping only once, I bit the bullet and bought them all. Wish I knew someone in Japan, but it was cheaper then flying out there to get them myself. LOL.
So anyway, I hope this post is helpful for anyone on the hunt for Disney bento supplies like I was!
PS- If you are in the states, Disney Cakes and Sweets Magazine recently began distributing copies here. You can subscribe to the magazine and get some crazy cool Disney bakeware (that works great for bentos!). To see more of what is offered, check out Keith's posts at Oh!Bento. He's got a great breakdown of what the magazines include (at least in the UK) and how you can use the items.
*In case you don't want to go to the store and prefer shopping from home, here are a list of links to the items I'm using for this bento. These are affiliate links. If you choose to buy from my links, I get a small percentage.
7 responses to "Finding Disney Bento Accessories"