Choo! Choo! Train Bento Lunch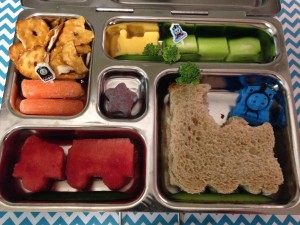 Oh man, three boys in my house means lots of noise and lots of fun. My middle little guy is on a trains and dinosaur kick right now. I made him this lunch earlier this year and he was so excited. "it's Thomas the Twain mommy! Thomas the Twain!"
I love hearing him mispronounce words. It's the cutest!
This lunch includes:
Peanut butter and Jelly Sandwich on Whole Wheat Bread
Organic Baby Carrots
TJ's Slim Pretzels
TJ's Yogurt Star
Cocktail Cucumbers for boxcars and train "twacks"
Cheddar Cheese Train Engines
Organic Broccoli smoke puffs
Watermelon boxcars
This lunch was served in the Planetbox Rover.
I used Lunch Punches to make the sandwich and watermelon boxcars. Thomas the Train picks are from ebay. Train engine cookie cutter was an ebay buy as well. Train ring was from a local cake shop.