Space Bento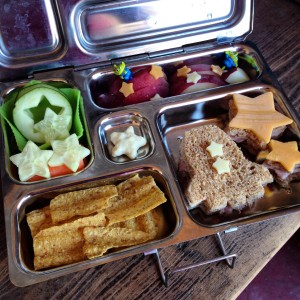 This space bento was inspired by Anna at Becoming a Bentoholic. I first saw those Toy Story space aliens on her post and fell in love with them. You can read about how I hunted them down on my Finding Disney Bento Accessories post.
In this lunch:
Organic Cucumbers
Organic Carrots
Sun Chips
TJ's Yogurt Star
Organic Gala Apples
Ham and Cheese served on Whole Wheat Bread
This lunch was served in the Planetbox Rover.
I used cookie cutters for all of the star cutouts. The green silicone star was from a friend who found it at Daiso Japan in California.
*In case you don't want to go to the store and prefer shopping from home, here are a list of links to the items I'm using for this bento. These are affiliate links. If you choose to buy from my links, I get a small percentage.
http://www.amazon.com/Toy-Story-Disney-Resort-Limited/dp/B00BU54E4C/ref=sr_1_3?ie=UTF8&qid=1438283228&sr=8-3&keywords=disney+resort+picks