Build Your Own Nachos Lunch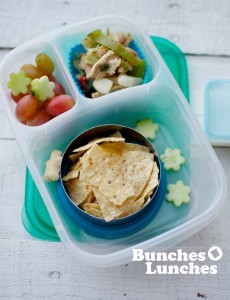 So you have a little leftovers from fajitas and need to make lunch the next day. Pack them up baby! Throw them in a silicone cup, add some chips and sour cream and you are good to go. A simple and delicious build your own nacho lunch!
In this lunch:
Tortilla Chips
Cucumbers
TJ's Yogurt Star
Red Grapes
Cooked Fajita Mix (chicken, bell peppers and onions)
Sour Cream and Cheese (in the mini dipper)
This lunch was served in Easy Lunch Boxes. The linzer cutter is made by Wilton and I used the cucumber flowers.  I used a Wilton silicone cup for the fajitas. I also used the wilton cutter to keep the chips separated from the other food in the main compartment. The sour cream and cheese were in the mini dipper. .
*In case you don't want to go to the store and prefer shopping from home, here are a list of links to the items I'm using for shoestring bento. These are affiliate links. If you choose to buy from my links, I get a small percentage.