Panda Love Bento Lunch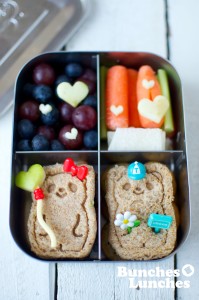 Are you looking for some cute Valentine's Day lunches? I should have some coming up the rest of the week. Today's lunch is a little love story of two pandas…
In this lunch:
Whole Wheat Bread
Tillamook Cheese
Applegate Farms Ham
Purple Grapes
Green Apples
Blueberries
Organic Baby Carrots
Jicama
Organic Celery
Whole Grain Crackers
This lunch was served in the Lunchbots Quad. I used CuteZCute Animal Palz to shape the pandas and food picks from Bento USA.
*These (Amazon links) are affiliate links. If you click through I get a small percentage of any purchase you make.
One response to "Panda Love Bento Lunch"