Shoestring Bento Bear Lunch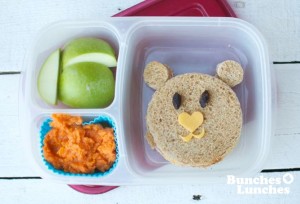 And another one bites the dust! My baby is now sick. So far we are 2 out of 5. I'm hoping the rest of us stay healthy! It's no fun having sick babies. Though, I have to admit, I do love the cuddles.
Anyway, this is not my favorite Shoestring lunch. I could not quite figure out how to make the bear face and it's proportions just look off to me. But it's food, and my son ate it. So it's not a big deal. Right?…
In this lunch:
Great Harvest Honey Whole Wheat Bread
Tillamook Cheese
Applegate Farms Ham
Sweet Potatoes
Green Apples
Sun-Maid Rasins
This lunch was served in Easy Lunch Boxes. The linzer cutter is made by Wilton and I used the heart and the circle to make the face.  I also used Wilton silicone cup for the sweet potatoes. .
*In case you don't want to go to the store and prefer shopping from home, here are a list of links to the items I'm using for shoestring bento. These are affiliate links. If you choose to buy from my links, I get a small percentage.