Winter Animals Lunch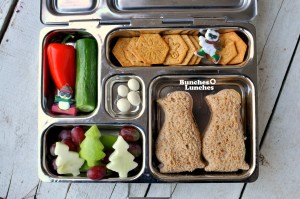 We may or may not totally love animals at our house (okay, we totally do). So I threw together this simple lunch to showcase that love. My oldest is still gaga for animals.
In this lunch:
Whole Wheat Bread
Ham
Tillamook Cheese
Red Grapes
Green Apples
Cocktail Cucumber
Red Mini Bell Pepper
Wheat Thins (Winter Shapes)
TJ's Yogurt Covered Raisins
This lunch was packed in the Planetbox Rover. I used a sandwich cutter for the penguins. The mini trees were cut from a mini Wilton Cookie cutter. The two animal rings were from a friend.
*In case you don't want to go to the store and prefer shopping from home, here are a list of links to the items I'm using for this bento. These are affiliate links. If you choose to buy from my links, I get a small percentage.

2 responses to "Winter Animals Lunch"