Lunchbox Showdown: Episode 1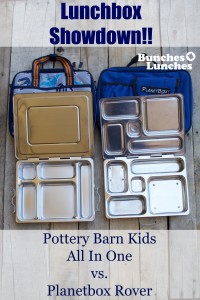 There are some questions that keep me up at night. Some things I NEED to know. Who really killed JFK? Why was there a huge coverup? Who was Jack the Ripper? Did they in fact find the right person? Did Shakespeare steal from Christopher Marlowe? Or was Marlowe Shakespeare? I don't know if I will ever have the answer to these, but I now know I can answer one of life's great questions: Which lunch box is better? The Planetbox Rover, or the Pottery Barn Kids All in One lunchbox?
Honestly, they are both nice lunch boxes , but if you want to see who came out of the round as the champion, be sure and check out my newest Vlogging endeavor: Lunchbox Showdown: Episode 1!

*In case you don't want to go to the store and prefer shopping from home, here are a list of links to the items I'm using for this bento. These are affiliate links. If you choose to buy from my links, I get a small percentage.

13 responses to "Lunchbox Showdown: Episode 1"